What's Included in Each Box?
Each box is thoughtfully curated to transport you to a specific country's rich culture, delivered right to your doorstep.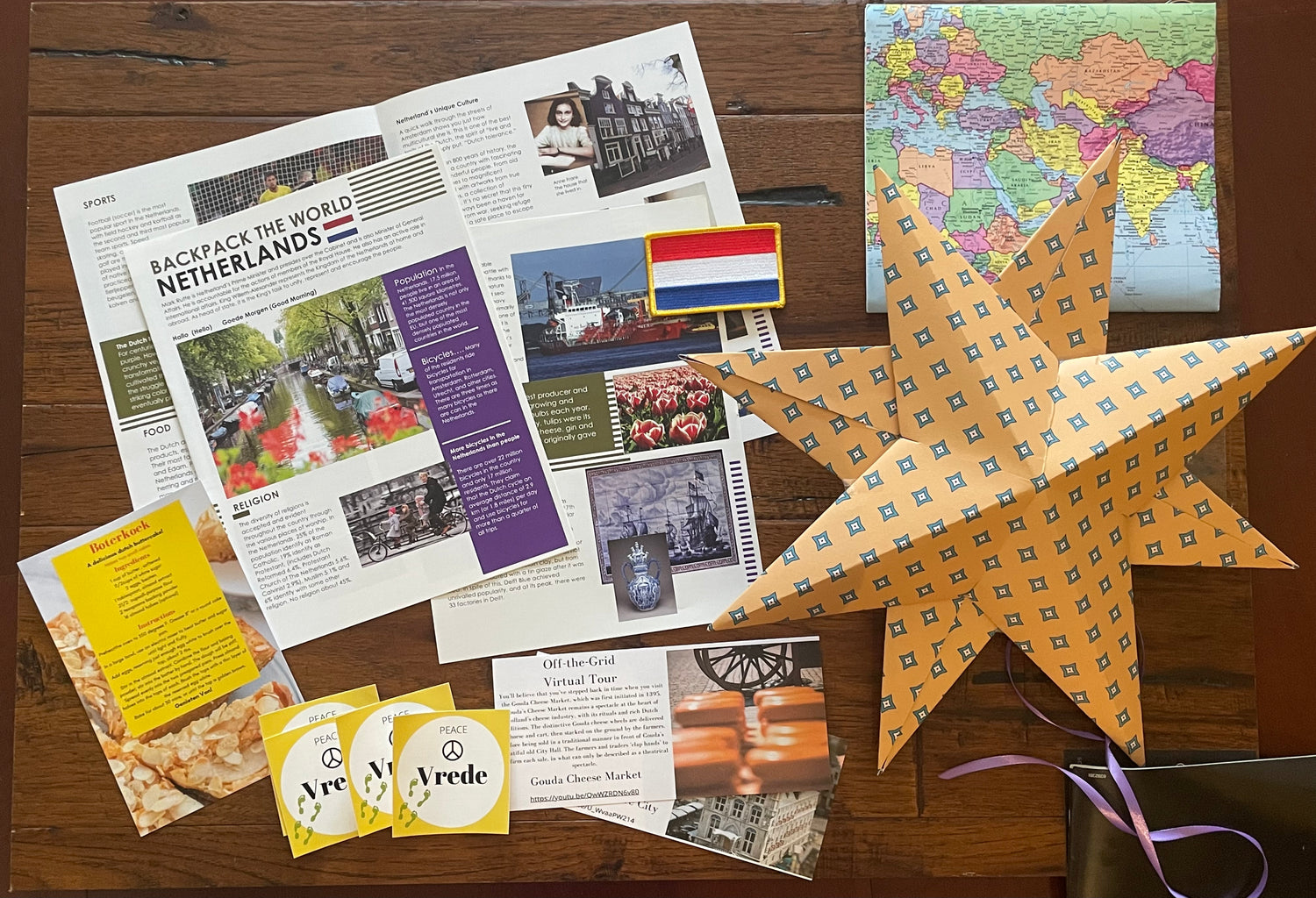 A Creative Approach to Teaching through Hands On Experience
Our boxes offer a diverse curriculum, fusing geography, social studies, culture, creativity, and even elements of math. It's not just a box; it's a journey of discovery and learning.
Throughout this page we go into more detail about everything that's included in each box.
Start Your Adventure
Geography & Social Studies
A world atlas, along with individual country maps and map skills included on the website allow the student to explore the individual countries, their bordering neighbors, and explore the key natural physical landmarks that have impacted the country's history.

Our Newsletter explores several aspects of the country including, the economy, geography, politics, and culture and how they affect the overall health and lifestyle of the county. This will give you an understanding of what it's like to live and work in the country.

Nate's letter along with his Itinerary give you an on the ground view of the distance he travels and an overall scope of the size of each country. Learn more about Nate and his dog Zeus by clicking here.

Backpacker's Challenge for each country allows the student to test their knowledge after reviewing all of the materials.
Culture
Experience each countries, celebrations, culture and people through our Off-the-Grid Virtual Tours. Unique places, events, landmarks have been chosen from each country to explore more closely and give you a personal view of their culture, environment and even the people. Plus you'll get a flag patch with each country.

Complete craft projects from the countries. Exploring world culture with arts and crafts is an experience, an adventure, and tactile learning! Some crafts we do today have been practiced for hundreds of years.

Cook an authentic recipe from each country. As the world becomes more globalized, it is easier to access cuisines from different cultures. It is a great way to become more informed about other cultures and familiar by trying their foods.

Learn some of the country's language using our language note cards along with a sticker that says peace in the language of the country. Understanding other country's languages creates more positive attitudes and less prejudice toward people who are different.

Read the monthly personal letters from Nate and Zeus, reviewing their experiences in each country. Get Nate's take on the places he visits, the tours and classes he takes, the food he eats, the people he meets and even some of the trouble Zeus gets into.

Read about some of the newest Pop-Culture trends happening in these countries. From the moment we're born, popular culture surrounds us and influences us. It's the beliefs and practices that groups of us have in common.
Math
When preparing the country recipes, follow a series of steps with measurements. Cooking reinforces math skills like fractions, unit conversions, estimating, measuring, planning and problem solving.

See both the metric and english systems of measurement used throughout the Newsletter and materials. An interesting part of understanding other cultures is experiencing the differences in how they think, process information and measure.

Learn to convert currencies around the world with a Real-Time Currency Converter. Understanding how money converts with the US dollar will help you in your real life travels. Look at the impact the value of the currency has on purchase decisions and the economy.
Creative Thinking
Check out the special sections of the Backpack The World website that highlight unique offerings…for example, Soccer Fields Around the World. See how kids overcome all sorts of unusual obstacles…just to play soccer!

The Newsletter is filled with fun facts in the "Did You Know Section"….. Fun facts like Why are carrots orange?, Why has Switzerland become the Watch capital of the World? will teach you about what makes each country unique.

Enjoy the travel blog that highlights interesting places around the world. Check out Goats in a Tree…that can't be?

Off-the-Grid Virtual Tours give you a visual experience and will expose students to unique and beautiful aspects of the countries. See Italian Opera, Marcel Marceau, and Snow Monkeys from Japan!
Choose a Country Where You'd Like to Start
Regular price

Sale price

$36.95

Unit price

per

Regular price

Sale price

$36.95

Unit price

per

Regular price

Sale price

$36.95

Unit price

per

Regular price

Sale price

$36.95

Unit price

per