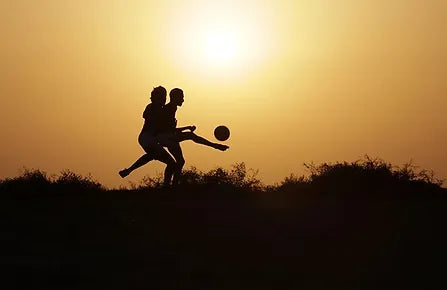 According to FIFA, 265 million people around the world play soccer or should I say football! (Considering only seven countries in the world actually call it call.) Soccer is the most popular game in the world.... The first "rules of the game" were created in 1848 in Cambridge, England.
Now let's have some fun!!
Below are shown football games being played all around the world, can you name their location. Some really interesting fields. To help out, we have provided a Key of Names. (The answers are below.)
A.  Mountain Villages International Soccer Tournament match in Gspon, in the Swiss Alps.
B.  KV Svalbard's crew, formed by Norwegian navy privates and scientists from the Norwegian Institute of Marine Research, Greenland.
C.  Former FARC rebels play football in the unarmed zone, Territorial Spaces for Training and Reincorporation Antonio Narino, in Icononzo, Colombia.
D.  Stadium made of straw named Zenit Arena, in the settlement of Krasnoye in the Stavropol region of Russia.
E.  A local third-category football match, at the Campo Gerini ground beside the Felice Acqueduct in Rome, Italy.
F.  A futsal pitch, built on the rooftop of a department store next to the Shibuya crossing, in Tokyo, Japan.
G. Boys play football on a pitch at Tavares Bastos favela, in Rio de Janeiro, Brazil.
H. A floating pitch in Koh Panyee, in Thailand's southern Phang Nga province.
I.  Soccer players from Switzerland play against Italy during the 2016 Mountain Villages European soccer tournament on the Allalin glacier in Saas-Fee, Switzerland.
J. Boys play soccer on a driftwood soccer court on the banks of the Rio Negro in Catalao community near Manaus, Brazil.
K. Young girl soccer players from Berlin schools play at the UEFA Champions Festival in front of the Brandenburg Gate in Berlin, Germany.
Number 1

Number 2
Number 3

Number 4
Number 5

Number 6
Number 7

Number 8
Number 9

Number 10
Number 11
Answers:
1. = D
2.= E
3.= F
4.= H
5.= I
6.= C
7.= J
8.= K
9.= A
10.= B
11.= G
Congratulations if you were able to label the locations. It is great to see such wonderful people play such a wonderful sport all around the World!!!